Kobe is one of Japan's most attractive cities. Local tourists go there and enjoy the feeling of foreign travel without actually a need to leave the japanese soil.
Kobe was one of the first cities to open for trade with the West, as of 1868.
Ijinkan
(
ijin
means foreign people and
kan
means house) are the 19th-century residences of Kobe's foreign traders, clustered in the Kitano area. One can get first hand impression how foreigners in Japan used to live.
Approximately 30 of these Western-style homes still remain. Many of these houses became
National Treasure
and are now open for the public to visit. Only very few remain on private hands and less is available for rent.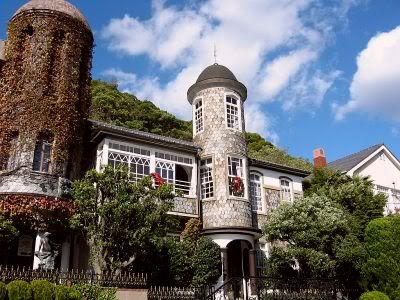 Of so many visits to Kitano, I have only seen the insides of two - The Uroko-no-Ie and The Original Holland House of Ailion.
The Uroko-no-Ie
has a castle-like exterior and is nicknamed the Fish-scale House because of its slate walls.
The colorful wooden clogs in
The Original Holland House of Ailion
.
From clogs to windmill to blogs. Nice picture, nice pose and beautiful Vicky.
One can enjoy wearing Dutch national costumes (free of charge) or other dresses (1000 yen).
The
Weathercock House
is constructed as the house of German trader G. Thomas in 1909, and famous for the weathercock on the steeple.
There are quite a few of nice souvenir shops.
Other picture : The statue of a naked woman.
The famous
buta man
(pork steam bun) in Nankinmachi Chinatown Kobe. Most of the time, a very long queue into the shop -
The Ryoshoki Buta Manju
. Very famous shop, it seems.