Northwest of Arashiyama (Kyoto), the
Hozu River
flows through a fairly narrow, twisting gorge just over 15 km long.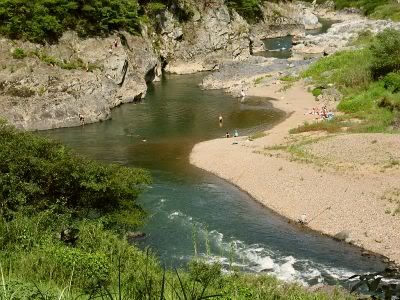 This secluded river is a good natural place to picnic, swim or simply sun. Last summer, my dorm mates and I wanted to have a picnic outing. The weather was glorious when we arrived early on a sunday morning.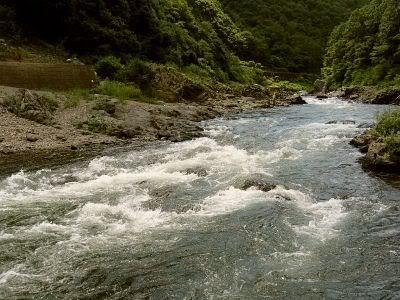 Rafting this river is quite popular as well. However, the river has not been popular for swimming ever since accidents and deaths were reported. Men were swept to their death by strong river rapids.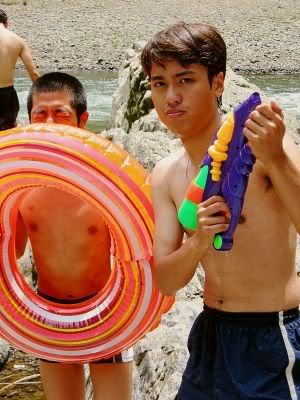 After arrival, we were warned by stall keepers about the accident. Although we were a little disturbed by the news, but it did not discourage us and hamper our excitement from jumping into the river and have a good swim. Andi was seen preparing his 'ship' and Qoo looked cool with the water gun.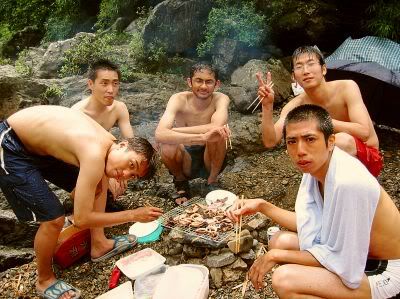 After a good splash in the water, we started preparing for food. Everyone was very hungry. We had barbecued chicken wings and calamari. Its taste was so good, thanks to special Cambodian black sauce. Yum yum.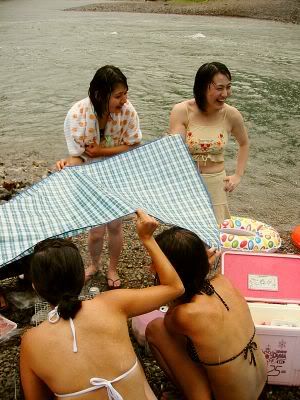 And guess what ! It started to rain. My Gawd ! The drizzle started to pick up and then a heavy pour. Although we used the plastic table cloth as a temporary rain shelther, we were all drenched within minutes.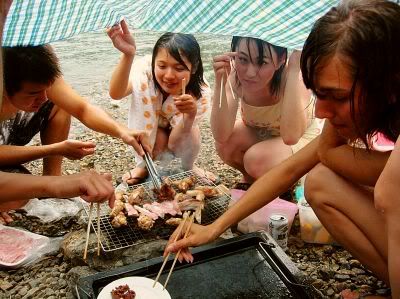 Rain was in the forecast. Although the weather bureau does not often make mistakes in their predictions, we took our chances. The rain continued heavily but it was so fun. Tomi flipped chicken wings over occassionally and fed to the hungry. My appetite was high.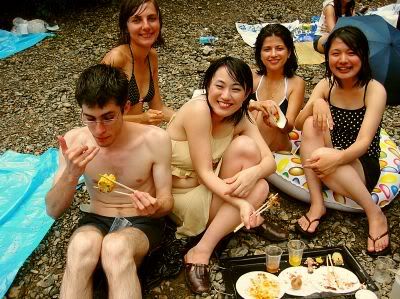 David was seen here enjoying his food despite the team of pretty girls were asking if they could get a photo with him. Bad David !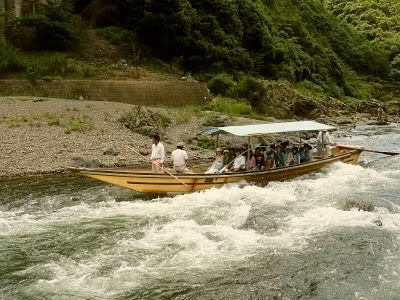 Boat trips from Arashiyama, down the Hozu River - a great way to enjoy the beauty of mountains. While traveling in the boats, the tourists pointed and waved to us.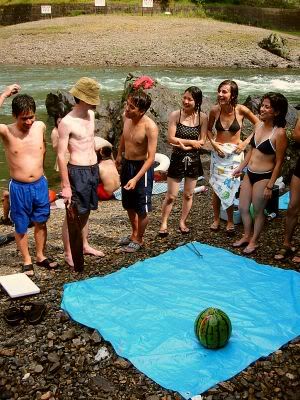 Here come our watermelon memories - David, handsome and smart, was an extremely popular guest in our dormitory. Qoo explained the rules of 'suika-wari' (the watermelon game).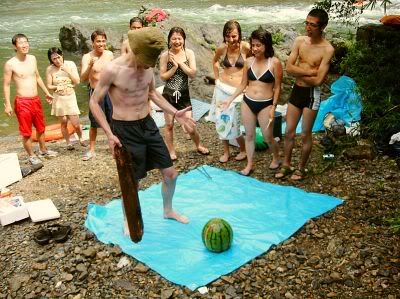 'Suika-wari', a Japanese traditional game involving placing a watermelon on the ground, then spinning someone (blindfolded) around ten or some twenty thirty times and verbally directing him to the watermelon, where he gets one chance to beat it with a kendo practice sword. Since we don't have a kendo sword, we just used a piece of wood, that we picked by the river.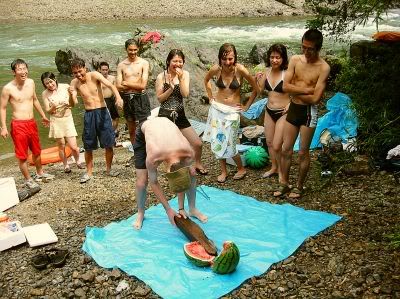 Unfamiliar with the game for the first time but with so much cheering from the girls (plus some jeers from the boys), with one hit, the watermelon splitted into two.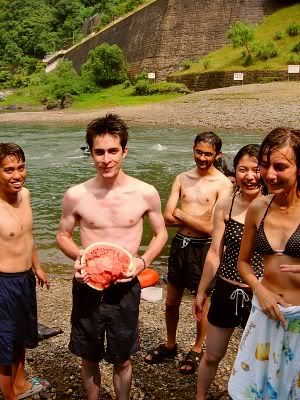 His prize - David received a generous portion of the 'seedless' watermelon.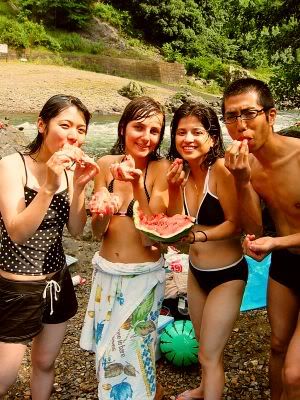 Andi asked, 'Watermelon-eating contest, anyone?' We allowed ourselves to savor the sweet and juicy taste of the fruit.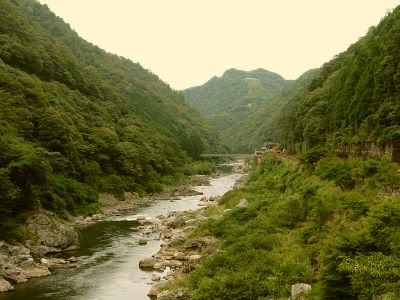 The other side of the river - one can enjoy the natural beauty of the season - the green space.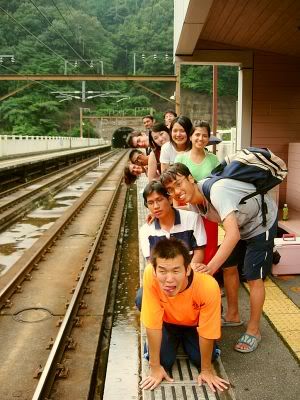 After such a wonderful picnic, with many laughs, it was time to head back to the dormitory for a second-round party (Beers and okonomiyaki - japanese pizza). Phew.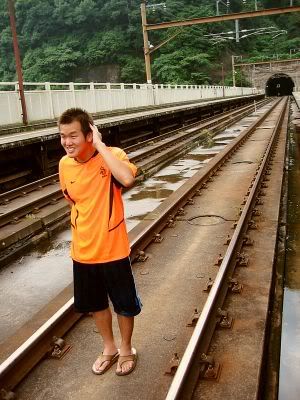 This was my best barbecue day of the year. And it's time to think of another BBQ. Tomi looked somewhat lost - on a train track. Funny.