The Kamo River (or more popularly known as
Kamogawa
) is a 31 km long river in Kyoto (near to the university). It rises from Mount Sajiki in the northern part of Kyoto, and goes through the center of the city and then meets the Katsura River of Fushimi.
Floods often threatened the ancient capital. Emperor Shirakawa (1053 - 1129) recited his three unmanageable things : armed monks of Enryaku-ji, the roll of the dice and water of the Kamo River.
The merchant Suminokura Ryoi constructed the Takase Canal as a parallel with the Kamo River in early 17th century. Transportation was done in the canal instead of in the unstable mainstream of the river.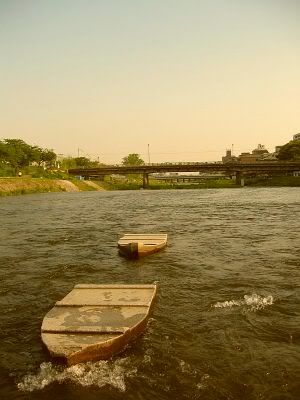 Most of the time now, the water level is quite low, and therefore, it is possible to cross to the other side, hopping on the river stone steps put there for such purpose. These stone steps bring people closer contact with the river.
In a great flood, the river ran amok in 1935 and destroyed 32 of the 41 bridges. Under some of the reconstructed bridges are now occupied by some homeless men. They keep everything clean, catch fishes from the river and never bother anyone.
The route of the river is highly linear. The river banks are popular walks for residents and tourists especially during the cherry blossom festival (topmost picture).
During the Children's Day (
kodomo no hi
), a string of
koinobori
-like was tied across the Kamo River.
Wildlife has found a way along the Kamo River. Seen here is a heron.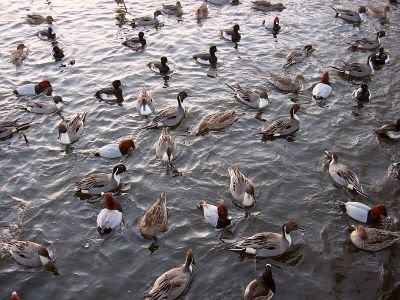 A group of wild
kamo
ducks were spotted swimming about in the river.
The riverbank is a popular place for young couples to sit together. It is also very common for one to bring a
bento
(lunch box) and eat by the river side. Kamo River is recognized as the city's treasure.