Since morning, I have been cracking my head, thinking how I should write this posting. According to Merriam-Webster, philosophy is a search for a general understanding of values and reality by chiefly speculative rather than observational means. Its meaning requires further elaboration if you are able, but the subject of philosophy is just too vast for me to handle. Meanwhile, the Path of Philosophy (or Tetsugaku-no-Michi) is a 2 km traffic-free public path beside a canal, once frequented by monks, priests and scholars, as a perfect place for long walks spent in quiet reflection.
Nishida Kitaro,
a significant and influential Japanese philosopher of the 20th century, used to walk this path to meditate - thereafter the path is called the Path of Philosophy. Lined with cherry trees, be prepared for large crowds of tourists during early spring.
Well, the Golden Week holidays came and went so fast, but I was still in a total holiday mood. I left the lab earlier than usual on a saturday and decided to take a walk down the path. Slightly before dusk, a
maiko
- a
geisha
in training was seen strolling down the Path of Philosophy. Behind the closed doors of exclusive teahouses and restaurants, these women of exquisite grace entertain gentlemen - they pour drinks, light cigarettes and engage in charming banter. Please be reminded that geisha are not prostitutes.
The path does not only lead through a quiet neighbourhood but also allows visits to several important temples along the way.
The western word 'rickshaw' is derived from the Japanese term
jinrikisha,
a mode of human-powered transport, where a macho-man draws a two-wheeled cart which seats one or two passengers. Many tourists explore parts of the city in
jinrikisha
.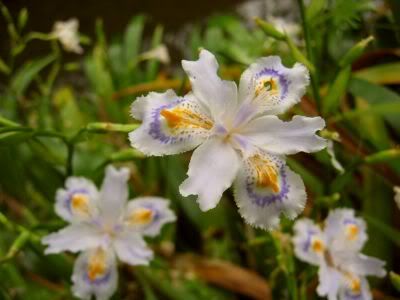 I was hoping to see a variety of beautiful flowers blooming but it seemed that I have missed them. Here is one nice flower picture dedicating to my net friends - ai ling, kuishinbomeow, primrose, angel, arglene, emotionalistic, charlene and nanmetta (sorry, girls only).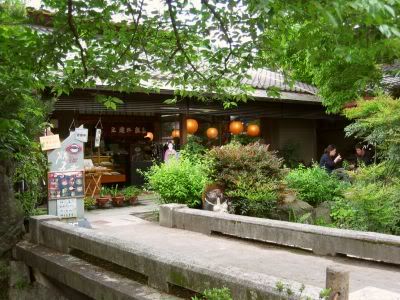 There are both japanese-style (top) and western-style (bottom) tea houses, where you can sip tea and quietly converse while admiring the surrounding beauty.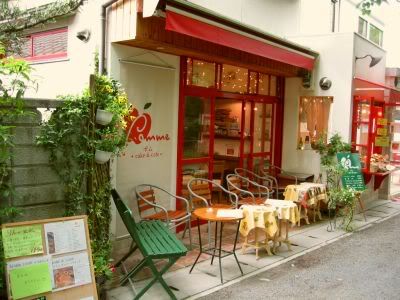 Walking alone sometimes makes us feel awfully alone, especially when you see romantic couples walking around holding hands. But sometimes it is good to be alone in contemplation - not all the time. Oh God, I sound so sad !
Koinobori
- the colourful fish pennants which wave over countless home in Japan in late April and early May, in honour of the household's sons. People express hope that each boy in the family will grow up healthy and strong by flying
koinobori
.
Kodomo no hi
(Children's Day) is generally said to be a 'boy's day'. Meanwhile, the girls have their own festival called the
Hinamatsuri
(Doll Festival).