I bet some of you still remember the
Ishigaki Stone Wall Cafe
- a student designed demonstration project that started when the university announced a plan to knock down the wall to make a new entrance to the main campus.
After the students proposed an alternative solution and the university agreed on the new plan, colorful billboards and signs are put up again to promote student activities.
Nothing new about the Prime Minister's controversial visit to the Yasukuni war shrine in Tokyo (corner top left). In Japan, the opinion of Koizumi's controversial annual visit to Yasukuni Shrine has been divided. For some of those who support it, it is merely viewed as a private visit by someone who wants to pray in a Shinto shrine, remembering the Japanese who died in the wars in the past years. Meanwhile for some of the opponents, Koizumi's visit is unconstitutional, as the Japanese constitution stipulates the separation of religion and state. Also, because Koizumi is a prime minister, his actions always carry political messages even when he calls them private ones.
Even President Bush's visit to Kyoto was greeted by protest prior a summit of 21 Asia-Pacific leaders in Pusan, South Korea.
I particular like the design of this student-run board to promote the astrology club (I think). High above us the planets and stars spin - why won't we get together and gaze at the sky tonight ?
More cute boards stretching along the walls. I think these are to promote the upcoming 47th November Festival.
I took this picture last week. The 47th November Festival starts today - November 23rd till November 26th. I will most likely go join the crowd later for some festival fun !
Different bands played music every evening before the festival. Some were good but some will too probably give you a threshold pain in the ear.
The North Campus of Kyoto University - along the road lined with ginkgo trees.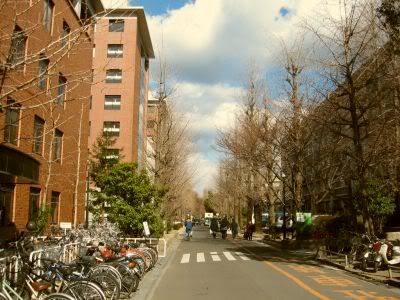 During winter when the ginkgo trees bare all - naked under the sun and only the branches on view.