According to the Teachings of the Buddha, the fundamental cause of human suffering is due to greed, hatred and ignorance. Burning within us as lust, craving, anger, resentment and misunderstanding, these so-called poisons drive one blind and thirsty through the endless round of birth and death termed as
samsara
.
Our
greed
is a burning desire; we want objects of our desire to provide us with lasting satisfaction so we feel fulfilled and complete. Many times, we mistakenly believe our happiness is dependent upon that goal, but once we attain it, we get no lasting satisfaction. Then once again, our greed and desire arise, looking outside of ourselves for the next thing that will hopefully bring satisfaction. Influenced by greed, we are never content.
The symptoms of
hatred
can show up as anger, hostility, dislike, aversion or ill-will; wishing harm or suffering upon another person.
Ignorance
is our wrong understanding or wrong views of reality. Ignorance is our misperception of the way the world works; our inability to understand the nature of things exactly as they are.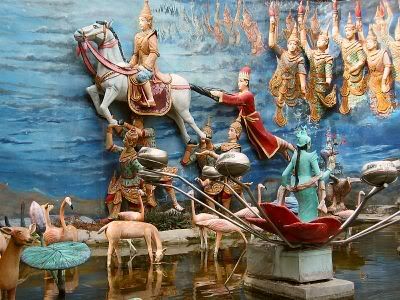 In addition to
meditation practice
, there are other antidotes to the three poisons.
To overcome greed, one learn to cultivate selflessness, generosity, detachment and contentment.
To overcome hatred, one learn to cultivate loving-kindness, compassion, patience and forgiveness.
To overcome ignorance, one cultivate wisdom, insight and right understanding.
What is Buddhism view of God ?
Here, when you speak about God, there are two types. One is the Creator God. Then there are what called the deities, or celestial beings. In Buddhism it speaks about the deities. They are not permanent or everlasting. The God that theistic religion speaks of is a permanent, everlasting God and it is this God who punishes the evil deeds and rewards the good deeds of the men of His creation. However, this concept is not in Buddhism. But, if you were to ask me whether if I believe there is the Creator God, I always avoid this question. Am I ignorant ? (I don't know myself). I wish I have the answer.
The outdoor bronze statue of Amida Buddha in Kamakura is the second largest Buddha statue in Japan. The statue was completed in 1252 and originally was located inside a large temple hall. However, the temple buildings were washed away by a tsunami tidal wave in the end of the 15th century, and since then the Buddha sits in the open.
In a local
restaurant outside the temple, one can enjoy hot and delicious
udon
noodles (but it seems a little inappropriate with decoration of the Buddha's head).