Constitution Memorial Day
is a day for commemorating the enforcement of the Constitution (May 3rd, 1947) and reaffirming hope in the growth of the nation. And it is a holiday during the Golden Week.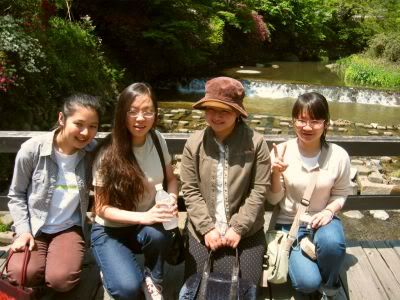 The weather was good and it was too beautiful a day to stay indoor. My dormmates and I planned for a one-day mountain vacation.
Mount Hiei
(or Hiei-zan) is a mountain to the northeast of Kyoto city, lying on the border between the Kyoto and Shiga prefectures. (From left; Yasuyo, Oyunaa, Mena and Hoang)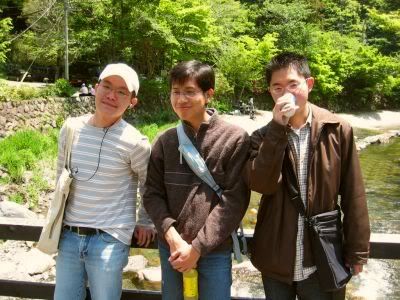 There are several ways to reach Mount Hiei. And it is too big a hill to climb. Since we were traveling from Kyoto, we took the Keihan Main Line to Demachiyanagi Station and transfered to an Eizan train to Yase-Hieizan-guchi. From here the Eizan Cable Car made the trip to the top. (From left; myself, Roeun and Harry)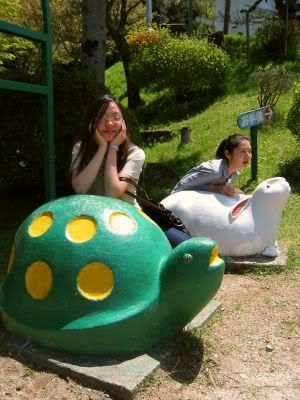 The stations were crowded with tourists. While waiting for our turns to get in the cable car, we had a little fun time in a nearby children's playground. When was the last time you have had a good swing ? This place sure does bring back some old memories.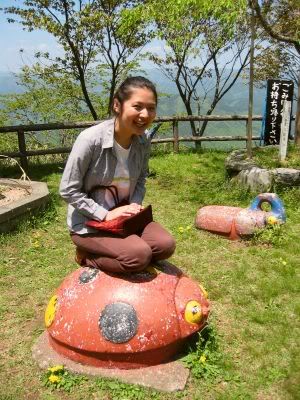 When I was a kid, I spent alot of time playing in the playground. Playground, some sort of a secret hiding place - the place I ran to whenever I was in need of a friend. Playground with slides, merry-go-round, rocking critter, sand-box and see-saws. And this is a playground where kids can learn science. Yasuyo was seen here happily riding on a red ladybird !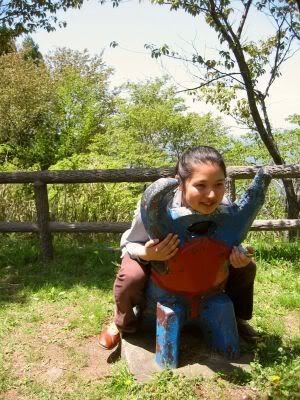 Yasuyo hadn't have enough, again seen here riding on a stag beetle. It looked like she was doing a poo poo (kidding). Maybe a little bit of introduction -
Yasuyo
, or more popularly known as Yacchan, is elected as a chairperson (student representative) in our dormitory this semester. Gambatte !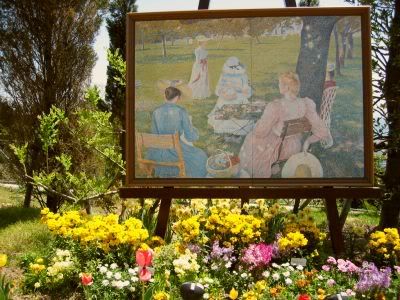 Poised on top of the 848 metres of Hiei-zan is a lovely art and garden museum. This painting shows a single moment of time. The painter (
Theo van Rysselberghe
, 1862 - 1926) made a quick sketch in order to capture just that particular scene in early summer.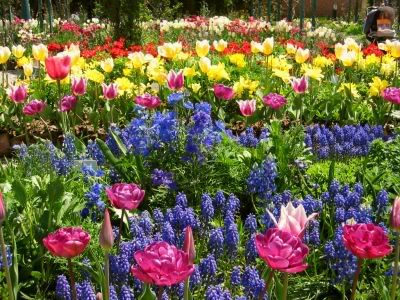 Flowers are always a romantic gift. Each flower has a special colour and a special meaning. Oh no, that's too difficult. Anyway, there are some general rules :
1. Never buy carnation for your girlfriend because it is meant for Mother's Day.
2. Never buy chrysanthemum for anyone because that's for the dead.
3. To be safe, pick roses, tulips or daisies. Sunflowers are good too.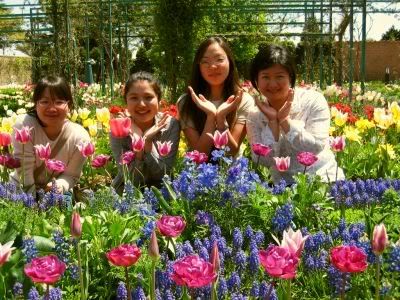 The girls lined in between the flower-beds and opened up like a flower. Generally, it goes without saying that flowers are often associated with the feminine spirit. Many girls are named after flowers.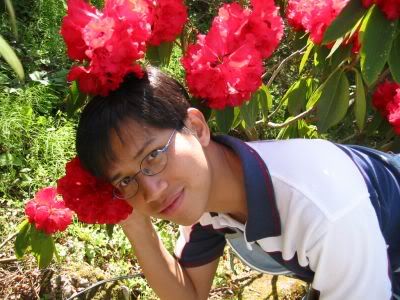 But I am sure there is at least one flower which can relate a man of noble qualities, a cultured man or a good man. Roeun was forced to pose beside the red flowers (just for blog use).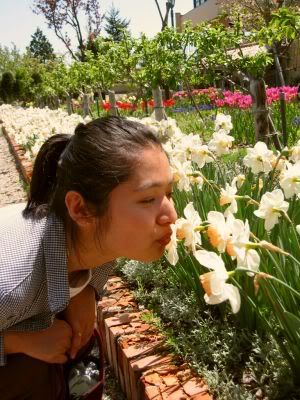 How do you smell a flower ? Yacchan was seen here sniffing at the flowers - some sort of aromatherapy. Oh no, not when all the pollens are sticking into your nose.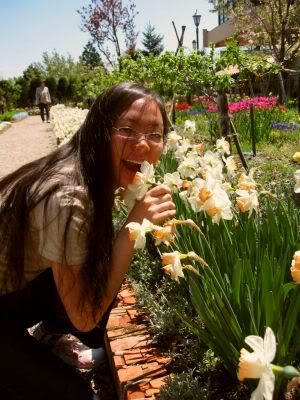 How do you eat a flower ? Oyunaa was seen here doing a demonstration. She advised, 'Eat flowers only when you are positive they are edible.'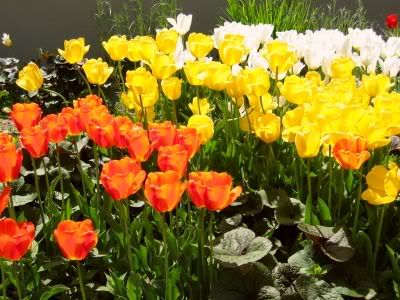 Flowers are always a romantic gift. But the spiritual significance of flowers - it grows and it decays, the very nature of impermanence. Once I bought my mother some really really nice flowers for her birthday. But she wasn't very happy because she prefers the plastic ones.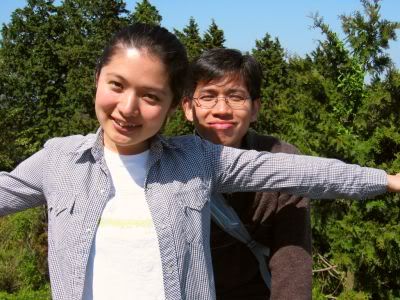 Many of my dormmates are good pingpong players. And we own our personal 'super' racket. Roeun is probably the best among us all.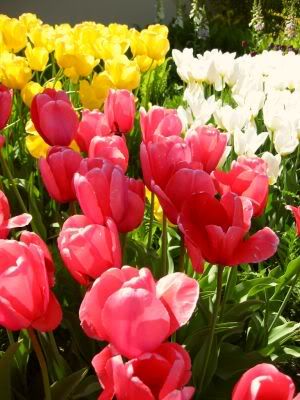 Red Tulip : Declaration of love and Yellow Tulip : Desperately in love.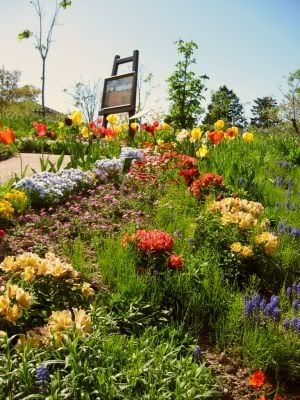 This is one of my favorite picture in the garden museum.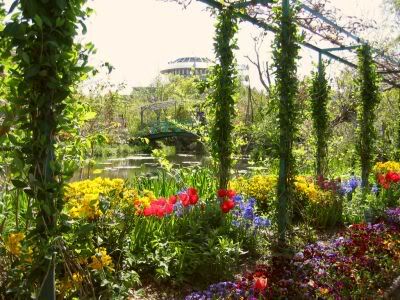 There is a rotating view spot in the garden affording a panoramic view of Biwa Lake.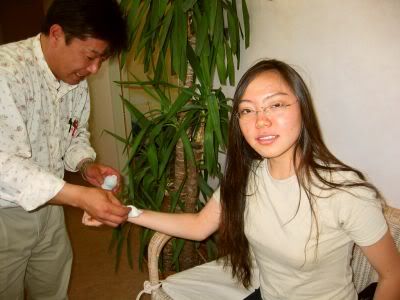 Oh no, Oyunaa was stung by a bee. Obviously, Mrs Bumblebee was angry because Oyunaa ate her flowers. The officer applied ammonia to the bite area.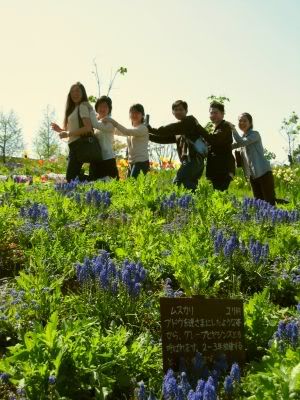 There is a flower calender for the garden. Entrance fee is
500 - 1000 yen
, depending on the season. (From left; Oyunaa, Mena, Hoang, Roeun, Harry and Yacchan)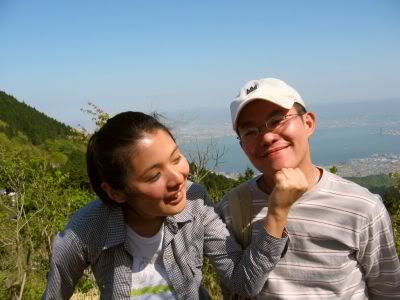 Yacchan initiated the trip. And what a great trip it was indeed (arigatou !). We had some good laughs but the best part of this trip was rediscovering of Adam and Eve.
You have reached an area that contains material of a mature and adult nature that may not be suitable for all parties. You must be over the age of 18 to access and if you are under the age of 18 or do not wish to continue, click : http://www.yahoo.com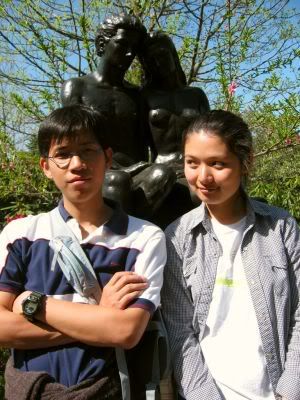 This garden reminds us of Adam and Eve in the
Garden of Eden
. This is one of my favorite picture of the couple.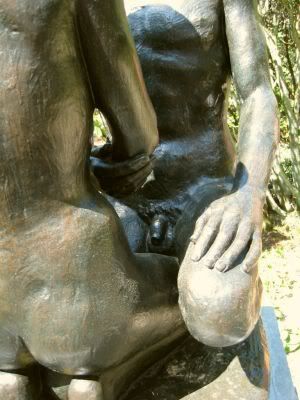 Oh, I swear that I didn't snap this picture. It was Roeun. He is so erotic ! (kidding) But on the other hand, it's quite an art.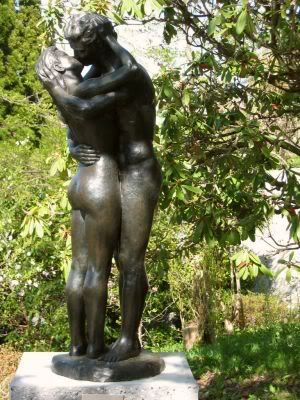 It was really a nice trip. Unfortunately, I have to leave early, or I could have followed them to Enryaku-ji Temple - a sprawling complex of temples and subtemples on Hiei-zan.