Milano
is the main city in northern Italy, and is located in the plains of Lombardy. The city is home of two world-famous football teams : A.C. Milan and Internazionale F.C.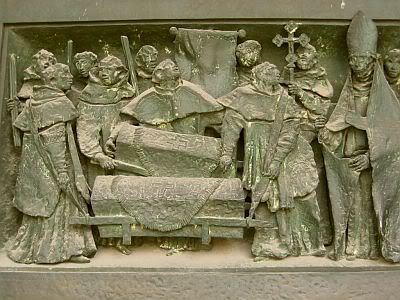 The
Duomo
, Milan's cathedral, is not to all tastes. To fans of Gothic architecture, it is a masterpiece of decorative elaboration. To more demanding palates it is all too much : 'an awful failure,' according to Oscar Wilde (1854 - 1900).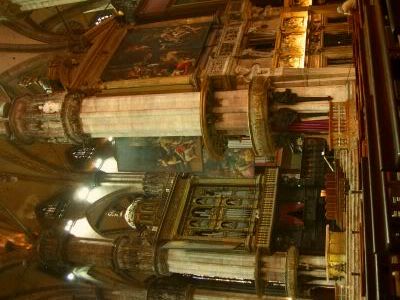 Two of the 52 piers supporting the cathedral's weight and the 16th century organ. Founded in 1386, the Duomo was instigated by Gian Galeazzo Visconti, Milan's ruler of the time, hopeful that the commission would persuade Heaven to reward him with a male heir.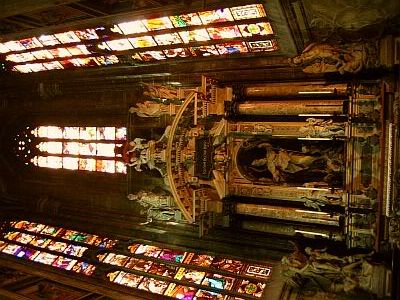 Heaven obliged, although the Visconti progeny, the barbarous Giovanni Maria, was assassinated shortly after assuming power in the early 1400s. Work continued for almost five centuries, the finishing touches being added on Napoleon's orders in 1809.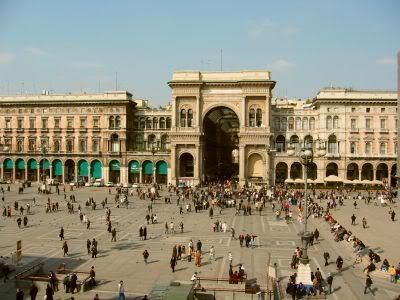 When I was there, the Duomo (facade) was in the maintenance progress. But still extremely impressed with this magnificent building - the exterior statues, spires and gargoyles. The
Piazza del Doumo
is crowded with birds and people who feed them.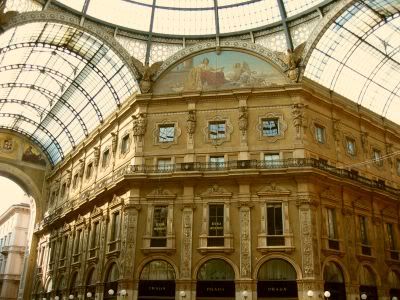 Galleria Vittorio Emanuele II
, a beautiful and elegant 19th century glass-enclosed arcade. Built between 1865 and 1877, it was designed by Giuseppe Mengoni who died just before the building was completed.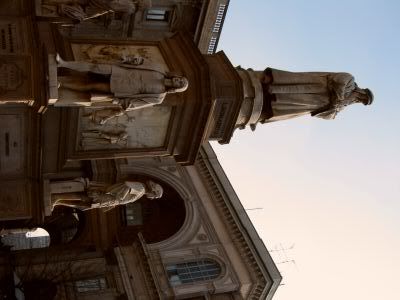 In the Piazza della Scala you will find this wonderful
statue of Leonardo Da Vinci
. It is located directly behind the Galleria and the famous Teatro alla Scala is just across the street. You can always find people relaxing around the statue, eating lunch, or just couples cuddling together.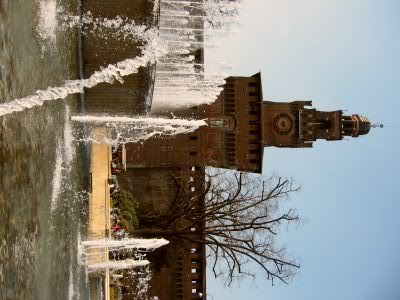 Milan's most imperious monument, the gaunt
Castello Sforzesco
, a huge red-brick fortress of high towers and bristling defensive walls.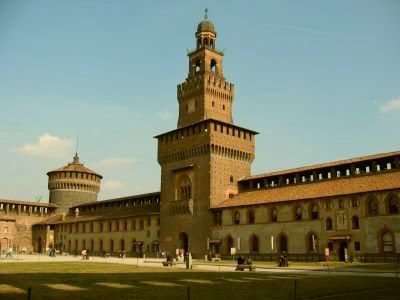 Begun by the Visconti in the 14th century, it was virtually destroyed in 1447 by mobs demonstrating against the family's monopoly of power, only to be rebuilt soon after by another dynastic clan, the Sforzas. Today, it contains four museums.
Most of
Milan's designer stores
are found on the fashionable shopping streets north of the Duomo.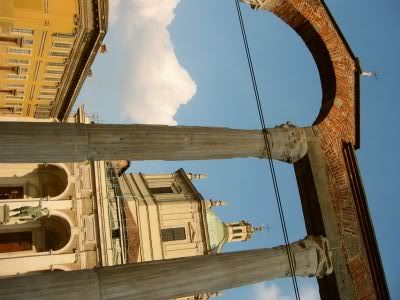 Picture taken in
Sant' Lorenzo Maggiore
.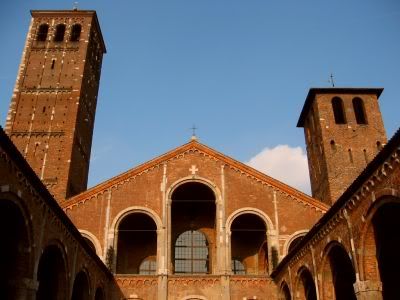 Sant' Ambrogio
is the most important of Milan's many churches. Founded in 379 by Milan's patron saint, the building's 12th century Romanesque form served as a model for countless Lombard Romanesque basilica churches across northern Italy.
Milan and Lombardy are candidate for the
Summer Olympic Games of 2016
.