Lake Biwa, the largest freshwater lake in Japan, is located in the central of Shiga Prefecture. And do you know that Lake Biwa is also one of the world's oldest lakes ? Other old lakes are Lake Baikal and Lake Tanganyika.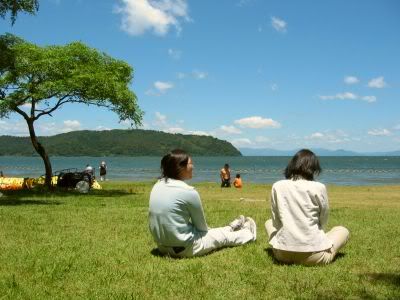 Naturalists have documented about 1100 kinds of living things in the lake, including 58 species found nowhere else on earth.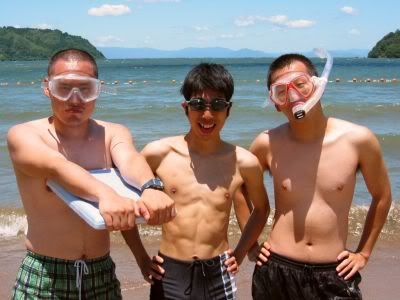 Though the water was too cold for a swim, we did not hesitate. But....I read on the net, that carp swimming around in Lake Biwa has herpes ! The carp herpes virus, first detected in Israel in 1997, has spread to other parts of Asia, including Indonesia and Taiwan, as well as Europe and the United States. It is highly contagious, but the virus does not multiply at temperatures above 30 degrees and is not harmful to humans. Phew.
The water of Lake Biwa is utilized for drinking by fourteen million people in the Kyoto-Osaka-Kobe metropolitan area.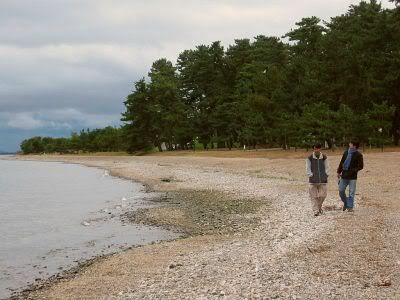 The western shore of the lake has white-sand swimming beaches, popular among Kyotoites during the summer.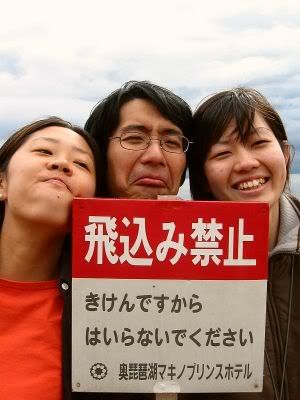 (Left, Miho-san; middle, Zhao; right, Sayuri-san).
One of my favorite picture (Left, Tomoko-san; right; Zhao).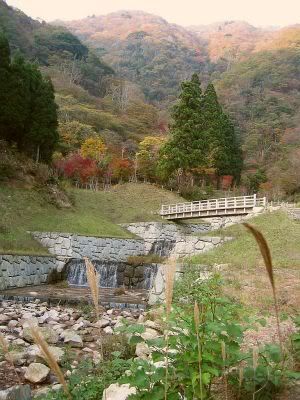 Shiga is surrounded by gently rising mountains and has Lake Biwa at its centre. This picture was taken in Makino Highlands.
Makino Highlands, a very small family ski resort, probably with 2 or 3 ski lifts.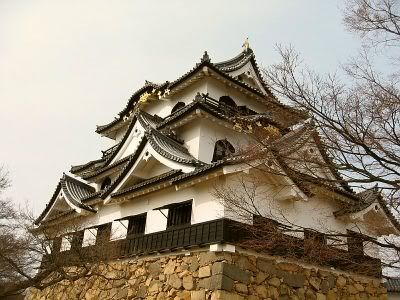 Shiga's most famous building is Hikone Castle, a national treasure. Most of the castle's inner moats, walls, guard houses and gates remain intact, giving visitors a good impression of a relatively complete feudal castle.
Many foreign tourists have never heard of Shiga. It might be considered a backwater prefecture overshadowed by its much famous neighbour, Kyoto.