Every summer, our laboratory will organize trip to destinations nearby Kyoto. Last year, the Master degree 2nd year students organized one to Hyogo Prefecture. Hyogo has coastlines on two seas : to the north, the Sea of Japan and to the south, the Inland Sea.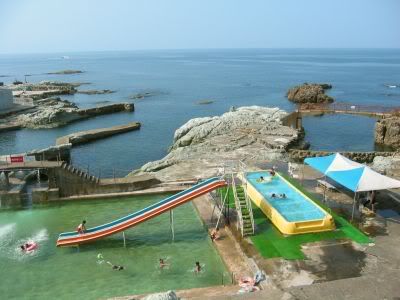 Summer time weather in Hyogo is hot and humid. This picture was taken in Kinosaki Marine World. Aaahhh... nothing beats a swim in this hot summer month.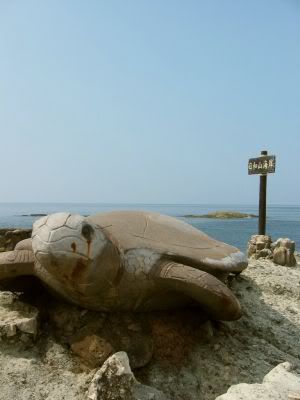 Another picture of the marine world.
One of the main attraction of this city is the Kinosaki Onsen Town (recommended). If I am not mistaken, there are as many as seven bath houses (some traditional style) in this area. One could dip and relax in natural hotspring water, from one bath house to another. Onsen plays an important role in japanese culture. For more information, please click :
http://www.kinosaki-spa.gr.jp/english/english.html
The Gembudo Caves are located east of the Maruyama River, northern of the Hyogo Prefecture. There are three caves with thousands of basalt pillars.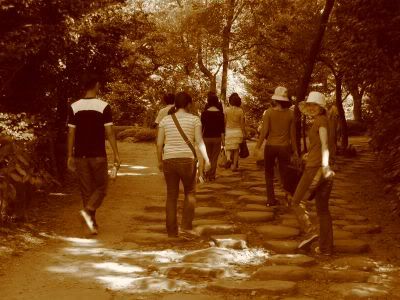 My laboratory friends, leaving the Gembudo Caves.
A good variety of flowers throughout the summer (small yellow flower, top). This picture was taken in a park during the trip.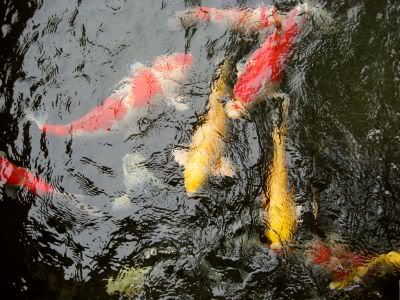 Koi in their many beautiful varieties seen today, are a descendent of a black fish known as Magoi, better known as common carp,
Cyprinus carpio
. Color mutations began to appear in 1804 to 1830 with red, white, and light yellow becoming the first colors to appear.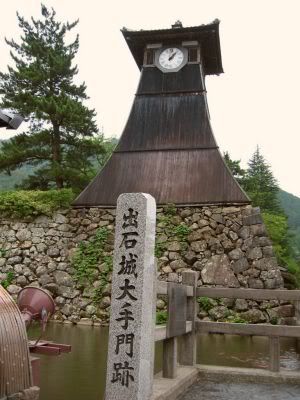 Izushi is a small town, located in the Izushi District of Hyogo. It is famous for Soba noodles, often called Sara Soba. It is served on a locally-made white porcelain china ('sara' in Japanese) and is popular among visitors, who often enjoy competing with each other over the number of plates they can eat. Refer site for more information on Hyogo Prefecture :
http://web.pref.hyogo.jp/english/main/index.html