Regarded as one of the three most beautiful scenery in Japan, Miyazu City's Amano Hashidate is a natural, 3.6 km-long, white-sand land bridge covered with 8,000 exquisite Japanese pine trees.
Amano-Hashidate extends over the water, dissecting Yosano-Umi and Asono-Umi in a single stroke.
It is said to be the place where the ladder on which the goddess Izanagino Mikoto was climbing fell to earth. If you visit this exquisite place, you may also be interested in seeing it the way that Japanese do—upside down, by looking back through their legs—as a bridge to heaven in nearby Kasamatsu Park (Saruta-san, left and Sugawara-san, right).
Fish is an age old symbol of wealth and prosperity. I was told by the shopkeeper that to hang out or to present this puffer fish to a friend (or family), is to send blessings of good luck and health.
You can rent a bicycle and ride through the forest with high pine trees.
Spotted two cute Japanese girls.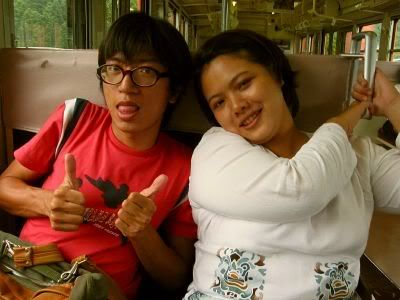 Mariano Ching, of the Philippines and Kanjana, from Thailand....we were on our way home back to Kyoto.